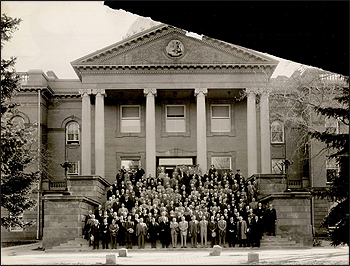 In November 1914 a small group of 14 state highway engineers met at the Georgian Terrace Hotel in Atlanta, Georgia to discuss the creation of an association that would address the unique concerns of the public officials responsible for "getting America out of the mud."
The engineers agreed to form the American Association of State Highway Officials (AASHO) as a forum to address highway issues and to promote state transportation priorities at the national level.
The engineers also called on all their colleagues in other states to attend the new association's first official meeting the following month in Washington, D.C.
The next meeting held nation's capital on December 12 at the Raleigh Hotel did much to set the tone for the association's voice, vision, and values in the decades since. Under the leadership of its first president Henry Shirley of Maryland, AASHO's first formal action at its first meeting was to approve a legislative proposal authorizing participation of the federal government in highway construction. That proposal, subsequently presented to the U.S. Congress, laid the groundwork for the historic Federal Aid Highway Act of 1916.
In the time since then, the association has built on that state-federal relationship to strengthen and sustain a national highway and transportation system. These efforts have included the advocacy of other landmark federal legislation, including the act that launched the Interstate system in 1956. Other AASHTO milestones have included:
The production of standards and specifications for highway design, construction, and safety;
The establishment of uniform symbols for road maps and the creation of nationwide route numbering of the primary U.S. highways and the Interstate and Defense Highway System;
The coordination of such key research efforts as the AASHTO Road Test in the 1950s and sponsorship of the National Cooperative Highway Research Program;
The formation of a materials reference laboratory program; and
The development of computer software programs to facilitate highway and bridge analysis, design, and construction management.
In these ways and others, the association throughout its history has worked to meet critical highway and transportation needs as they develop.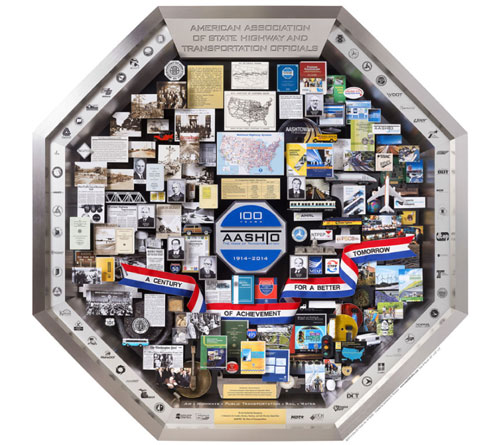 Featuring icons, images, tools and memories from 100 years of transportation, the completed shadowbox will be formally unveiled at next week's Washington Briefing Congressional Reception at the Reserve Officers Association. It will remain on permanent display in AASHTO's offices in Washington DC. However, first the shadowbox will travel to the 2014 AASHTO annual meeting in Charlotte, North Carolina, Nov. 25-28. In the meantime,
check out our special interactive version
!