February 19, 2014
Blog post—Orange Barrels
By Sonna Lynn Fernandez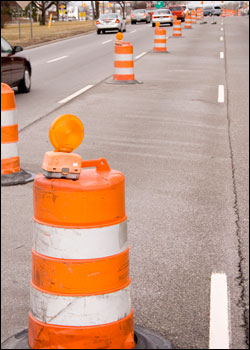 I am a child of the interstate construction era. In the 1970s, I remember traveling to visit family that lived an hour away. At least once a month we would pile in my grandparents' car and hit the Ohio interstate to travel north. As a young child, it seemed like the interstate system was always under construction. Each time we traveled I would stare at the orange barrels wondering what was going to be built this month. Because we traveled often, I was able to observe how the Ohio interstate was constructed one mile at a time. But I especially loved to watch bridges being built. One day there would nothing and within a few months, there would be cars traveling over the bridge that crossed the interstate connecting two sides of a community.
While traveling for one of our visits, I announced to my family that someday I wanted to work for a department of transportation. They all laughed because I was only about 10 years old and they were sure I would change my mind before college. At that time there was no internet, no blogs, and no websites. Instead I went to the library and got books on road construction.
When I went to college in 1985, I decided to take several civil engineering courses. In one of my design classes, I was introduced to planning and fell in love with the idea of figuring out where to build infrastructure and how the expansion of transportation facilities enriched our economy, how it enabled our society to grow and prosper, and how it protected our country. I graduated in January 1990 with a Bachelor of Science degree in Geography/Cartography and a Planning Certificate. At that time, there was no transportation planning degrees so we had to modify what we learned to fit the process.
Directly out of college, I landed my first job in a small metropolitan planning organization in Idaho. I learned from the ground up all about transportation planning and engineering. Although my formal education helped me with basic planning actions, I wanted to learn more about how, when, and why infrastructure was built. Later I went to work for another Idaho MPO, but my heart was always set on working for the state DOT. In 1995 there came a job opportunity with the Idaho Transportation Department and I took it. I remember calling my grandparents with the good news. My grandfather recalled my announcement when I was 10 and said he always knew I would "play in the road" someday.
When I was hired, ITD had just developed a new job classification of the "transportation planner." Not only was I able to work for ITD, but I would get the chance of a lifetime to create what I thought the job should entail. Working with the other new planners, we developed job descriptions and determined how we would fit into the organization. Our plans were often grandiose because we thought federal funds would always be there to add new facilities, widen current infrastructure, fix potholes, etc. It is now 2014 and the interstate construction era is over. I have watched how our organization has gone from construction-centric to maintenance oriented. Transportation planning has also morphed from determining where new construction should go to how to maintain our current transportation network, manage performance and boost the economy.
I still love my job and it amazes me that at 10 years old I knew what I wanted to become when I grew up and it all started by watching orange barrels.
**Sonna is currently transportation planning coordinator at the Idaho Transportation Department. Her husband serves as an ITD civil engineer and their daughter plans to follow in their footsteps, aiming to become a transportation planning engineer.
---