April 16, 2014
Long Road to a Better Bridge
By AASHTO Communications Director Lloyd Brown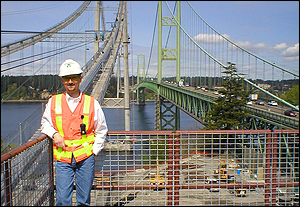 I remember seeing the story on television when I was a little boy. Galloping Gertie, the famous Tacoma Narrows Bridge, was swaying and bucking. People wobbled their way off the bridge just moments before the deck breaks away and falls into the Puget Sound below.
It was an amazing story, perhaps even more amazing that the only fatality that day was Tubby, a small three-legged dog who refused to get out of his owner's car to get off the bridge.
The original Tacoma Narrows Bridge collapsed on November 7, 1940. A decade later the second Tacoma Narrows Bridge, much stronger and different than the original, was opened to traffic using the very same caissons as the first bridge.
By 1993, as a young reporter working my first newspaper job in Kitsap County, Washington, I covered a public meeting that was called by local state Senator Bob Oke to discuss options for widening or replacing the existing bridge. The second bridge had narrowed lanes. Several head-on collisions had cost lives and blocked traffic for hours at a time. Each day, the people who depended on the bridge endured multiple hours of heavy congestion. The alternate route across the Tacoma Narrows was a trip south through Olympia, adding more than 40 miles to the trip.
The community needed a new crossing, either wider or a second bridge. Something clearly needed to be done. But I remember returning to the newsroom after the meeting and telling my editor, "Don't worry. They'll never build another bridge." There did not seem to be the will or the funds to make an innovative project work. The odds were seemingly too stacked against a solution.
Yet, there I was 14 years later helping plan and organize the grand opening of the third Tacoma Narrows Bridge. I was the Washington State Department of Transportation communication director, and that role provided me an upfront seat as a third crossing was constructed parallel to the existing second bridge. Roughly 65,000 people turned out in July 2007 to run, bike and walk across the bridge. It was a festive day the reveled in the awesomeness of engineering accomplishment.
The next morning, as the new bridge opened to Monday commuters, the hours of congestion were eliminated. People who had lived their entire lives slogging through backups and white-knuckled crossings, were suddenly cruising at 60 mph across the Tacoma Narrows.
As I look back on the last 100 years of transportation, I feel fortunate to have been part of a project that is linked to one of the greatest engineering triumphs and failures. And, I am grateful to have worked with a collection of thoughtful, dedicated people who knew there was a solution to the nagging safety and reliability issues dragging down the local economy and refused to listen to naysayers like me, who said it could not be done.
---