July 16, 2014
The Railroad: Keeping the Future on Track
By AASHTO Communications and Publications Coordinator Zach O'Connor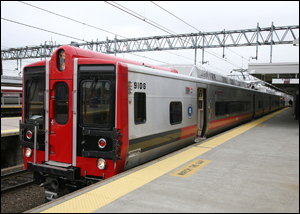 I remember every Saturday as a 6-year-old kid. I would wake up, have breakfast, and go with my dad to Essex, Connecticut. It was a small town about a half hour away from where I grew up and on Saturdays, my dad would take me to see the steam train as it left the station for its tour up the Connecticut River. My eyes would light up every time I arrived at the station, always fascinated by the railroad and how it was able to transport people from one place to the next. My view is that the railroads are a mode of transportation that truly brings people together for a short (or long) period of time. A track is already set, a schedule already in place, destinations and stops already established, and yet each passenger on the train had a different motivation or story for why they were traveling or what they would do once they arrived at their destination. However, as a six-year-old, I was just excited to see the large metal locomotive move along the track.
Ten years, two train sets, a dozen computer games, and many Saturdays in Essex with my father later, I was working part-time during my high schools years and starting to plan my future. Similar to most kids that grew up in a small town or suburbs, I was planning my escape to somewhere outside of small-town Connecticut. I was lucky enough to live in a town off of Connecticut Department of Transportation-Amtrak's commuter rail line, the Shore Line East. The train connects the shoreline of the state with New Haven, a major city in the state which connects to the Metro-North commuter rail to New York City. For me, this rail line was access to a temporary escape. Every month I would travel to New York City, if just for the day.
The trip from Madison (my hometown) to New York would take two hours each way, and to some it would seem like a long trip. But to me, it was worth it every time. The railroad provided an escape and a connection to the world outside of high school and my part-time job. When I first traveled Shore Line East as a kid and then as a young adult, popularity and ridership was initially modest, but grew overtime. Before I left Connecticut for college in Washington, D.C., Connecticut and Amtrak expanded service and updated stations, making the rail line a vital transportation network for local residents along the Connecticut Shoreline. If you build it, they will come.
Over the last five years, state transportation departments, Amtrak, the federal government, and private industry are investing money in the railroads again. With improvements and expansions in Maine, Connecticut, California, Florida, North Carolina, and states across the country, the railroads are making a comeback. Our roads are congested, our airports are packed and uncomfortable, and our rail is emerging as the next great investment in our nation's infrastructure. Now that I live in a city with transit and access to rail, my desire to drive is dwindling. I speak to my friends in Washington, D.C. and home, and they would all love to ditch their cars and utilize transit and rail. It's not just my generation-- I've been told by family and friends older than me that they enjoy the comfort and ease of train travel. They wish it could be faster but when you factor traffic on the roads or delays at airports, the rails are an alternative they enjoy. The future of transportation is multimodal with rail existing as a major player.
The railroad, whether the steam train that established my interest as a child or a commuter link to urban life as a young adult, keeps the future on track for individuals and our multimodal transportation network. It provides connections, transports goods and services, and it allows people without access to an airport or car to see the nation in front of them.
---