September 19, 2013
AASHTO Presidential Profile: John C. Mackie, Michigan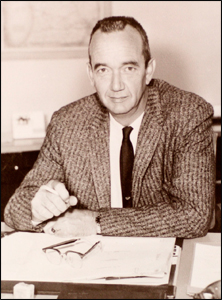 Approaching its half-century mark, the American Association of State Highway Officials (AASHO) selected John C. Mackie as the association's 51st president in December 1962.
Mackie, who was Michigan's state highway commissioner, served as AASHO president at an important time for both the association and the United States. The program for Interstate Highway System, which had been launched only about seven years earlier, was very much underway with an ever-increasing number of those routes built and opened.
As AASHO president, Mackie played a major role in efforts to improve the nation's vast network of highways. He championed the progress made nationwide on building the then-new Interstate Highway System, but also emphasized the mushrooming need to keep pace with and address the various challenges posed by that nationwide network. Mackie also underscored the importance of not allowing the progress on the Interstate Highway System to shortchange what he called "equally great achievements within individual states" when it came to other roadwork efforts.
Mackie also used his time as president to promote the importance of more modern highways in improving traffic safety and encouraging economic growth. He also gave voice to the need for increased public information programs promoting the work on highways at the state level. During his time as AASHO president, Mackie also served as presiding officer of the Pan American Highway Conference in Washington, D.C.
Mackie was born on June 1, 1920, in Toronto, Canada. In 1924, his family immigrated to the U.S. and settled in Detroit. He graduated from Southeastern High School in that city and went on to attend the Michigan-based Lawrence Institute of Technology (now Lawrence Technological University) before transferring to Michigan State University. In 1942, Mackie graduated from MSU with a B.S. degree in engineering. (He received an LL.D. from that educational institution in 1965.)
Mackie subsequently spent the World War II years working on airplane engine design in Detroit and then serving in the U.S. Army Air Corps as an aircraft control officer in the Pacific theater. He was discharged from military service in 1945 as a first lieutenant. Mackie worked for an engineering firm in the Flint area until 1952, when he organized the Flint Surveying & Engineering Company. At that time, he also became the Genesee County surveyor in that part of Michigan and served in that position until 1956.
In 1957, Mackie took charge of the Michigan Highway Department when he became the nation's only state highway commissioner at that time elected on a statewide basis. He won reelection to that position in 1961, and would become the last person chosen in such a manner to lead the Great Lakes State's highways agency.
According to The Associated Press, more than 1,000 miles of Interstate and state highways were constructed in Michigan during Mackie's time as commissioner. Michigan led the nation during that period in the construction of the Interstate Highway System. Under Mackie's leadership, Michigan also became the first state to build a cross-state Interstate route, I-94, and to create a highway exit numbering system.
During his tenure as commissioner, Mackie also became significantly involved in AASHO's activities. He served on the association's Executive Committee and then became first vice president. Mackie was elected AASHO president at the association's annual meeting in Bal Harbour, Florida, in December 1962.
A little over a year after completing his term as AASHO president, Mackie resigned as state highway commissioner after being elected as a Democratic U.S. representative from Michigan's seventh congressional district. He served a single two-year term in the 89th U.S. Congress. Mackie subsequently remained in the Washington, D.C., area and worked for many years as an engineering consultant. He died on March 5, 2008, in Warrenton, Virginia, at age of 87.
The welcome center in the median of US-127 and US-10 in Clare, Michigan, is named in Mackie's honor. In addition, he was inducted into the Michigan State Department of Transportation Hall of Fame in 1972.
---