September 17, 2014
Did You Know?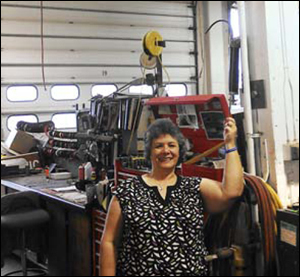 Now-dormant historic whistles at the Idaho Transportation Department were once vital to everyday life.
Article reprinted courtesy of the Idaho Transportation Department
They are relics of a bygone era. Like black-and-white television, transistor radios, and rotary phones, they remind us of technology long since left behind. Yet in another time, they may well have been as critical to the Idaho Transportation Department (ITD) as the equipment used to build and maintain roads.
It is a bit of ITD history, and a bit of Americana. Though no longer in use, they remain tokens of a very different time.
One hangs inside the District 3 shop in Boise, and the other is mounted on the roof. Although the whistles have not been used for work in decades, they were once used extensively and served a critical daily function.
Elden Dormier, who spent considerable time in the shop as a welder and machinist, said the whistles were in place when he began work in 1957, and were likely installed when the shop was built in the current location a few years earlier. Dormier retired in August 2013, after 56 years with the department.
Dormier said the whistle mounted on the roof served as an air raid or emergency siren, providing civic warning in the event of a military or other public emergency.
"It was meant to warn you to get out of the building ASAP," explained Michel Garz, District 3's Maintenance Operations Manager.
Prior to the relocation of the shop to Chinden and Coffey, it was located just south of Main and 27th Streets in Boise. No one recalls if the whistles existed at that earlier location.
The whistle on the roof was intended to dispatch folks to designated spots in the yard, where they would get hoses and carts to fight fires on the premises, according to Marvin Kerns, who was ITD 3 Shop Foreman from 1958 to 1987. He said in those situations two men would grab each cart and one would grab the hose.
The whistle inside was used for an equally important function – to signal work breaks throughout the day, the lunch break and going-home time – and when to go back to work.
"It rang at 8 a.m. to start work, at 9:30 a.m. for coffee break, 9:45 a.m. to go back to work, at noon for lunch break, at 1 p.m. to go back to work, in mid afternoon for a break, and at 5 p.m. when it was time to go home," Dormier explained.
ITD Chief Engineer Dave Jones said he tested the whistles more than a dozen times in his tenure as District 3 Engineer, from 2007 to earlier this year. Rich Rabe, D3 Shop Foreman from 1988 to 2013, said it hadn't been heard for decades until Jones performed those tests.
"The roof whistle is a toot like a steam engine or old factory lunch/shift change sound, sort of a middle-tone 'toot' rather than a deep boat sound or a high-pitched tweet whistle," said Jones. "The whistle inside the shop is a musical chord; it's more high-pitched than the roof whistle but has a nice tonal sound."
The inside whistle is a four-barreled copper or brass unit with a semi-chord medium octave sound, located on the shop's west side. The air-raid whistle is a small barrel until on top of the roof above the shop, loud enough to be heard around the yard, with a baritone sound.
The first time he let it run, Jones had to put a halt to the testing when the booming baritone of the air-raid whistle began to cause panic in the people at ITD who had been there long enough to know what the sound meant. The ominous sound probably caused a stir as well for many older residents living near the District yard.
Jones, like most of us, is too young to know first-hand when the whistles were vital to everyday life. The culture has shifted. The world has moved on.
But a baritone blast can bring it all back.
---