September 17, 2014
AASHTO Presidential Profile: Richard A. Ward of Oklahoma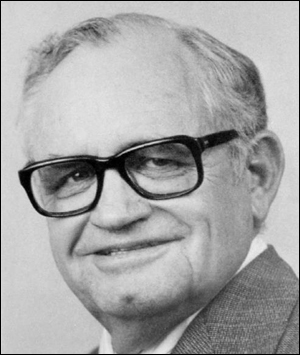 AASHTO's 66th annual meeting, which took place in November 1980, was noteworthy in several respects. It was the association's only annual meeting to date to be held in Las Vegas. It also marked the inaugural annual meeting for the association's new executive director, Francis B. Francois, who would remain in that position until 1999. That annual meeting also witnessed the first-ever election of a representative from Oklahoma, one of the association's founding states in 1914, to lead the association.
Richard Arista "Dick" Ward, Oklahoma's director of transportation, became AASHTO's president at a time when the association – tackling both the challenges of the multi-modal mission it had officially assumed just seven years earlier and more limited-than-before resources for transportation priorities nationwide – faced a still-young decade with a mixture of hope and concern.
"The 1980's have been described as a decade of scarcity – the decade of turbulent times," proclaimed Ward's presidential predecessor William A. Bulley of Washington at that same annual meeting. "Perhaps it will also be the decade of opportunity with a revitalization of interest in filling all the transportation needs of the traveling public."
Ward was born in February 1920 in southwestern Oklahoma, where his father – a Spanish-American War veteran – was a Methodist minister, who served as a circuit rider for various small-town churches in that part of the state. The younger Ward began studying at Oklahoma A&M College in Stillwater in 1938. Those studies, however, were interrupted by military service during World War II. Ward participated in the Normandy invasion and was in Germany in 1945 when the war in Europe ended. Ward would ultimately resume his studies after the war and graduate as a civil engineer in 1950.
Ward started his career with the Oklahoma Department of Highways as a chainman on a survey crew and steadily worked his way up through the ranks of that agency. Holding a succession of engineering and executive positions, he was promoted to deputy director and chief engineer in 1971 before becoming director the following year. Ward became the Sooner State's first director of transportation in 1976 when the agency was reorganized as the Oklahoma Department of Transportation.
Ward would serve as head of that agency longer than anybody else to date. It was under his leadership that Oklahoma became one of the first states to complete its portion of the Interstate Highway System.
Throughout his tenure, Ward's involvement in transportation activities went beyond just Oklahoma. He served as a member of the Transportation Committee of the National Governors Association, for example, and was president of the Mississippi Valley Conference of State Highway and Transportation Officials (now Mid America Association of State Transportation Officials). Ward became very involved as well in various AASHTO activities, chairing the Administrative Subcommittee on Internal Audit. Prior to being named the association's vice president, he also served for a couple of terms on the Executive Committee.
Ward's tenure as AASHTO president in 1981 would be characterized in large part by continued efforts to build on and strengthen the association's expertise and services related to multimodal rather than just highway-oriented issues. He also led enhanced outreach with other stakeholders in the transportation community.
"We have now developed closer working relationships with a number of sister organizations, and have helped to form working coalitions on a number of issues," assessed Francois in a report to Ward and others on the Executive Committee in September of that year.
A high priority was also given to improved communications during Ward's time as president. In addition to the AASHTO Quarterly magazine, AASHTO began the Transportation Journal – forerunner to the current AASHTO Journal – to provide weekly updates on transportation news; the Regs Report to keep track of federal regulatory actions; and the Legislative Report to cover legislative developments.
Other AASHTO accomplishments during Ward's presidency were a growing involvement in transportation computer design software with the rollout of the Bridge Analysis and Rating Systems (BARS) program; and the dissemination of such association documents as the report of the Task Force on Mandate Review, which was used by Reagan Administration officials seeking to reduce red tape and unnecessary costs at that time.
"It has been a busy year for AASHTO, and like the harvest in the fields, it has been a fruitful year for our Association and for Transportation," said Ward at the end of his term at the association's annual meeting in Chicago in October 1981. As he also told the meeting's attendees in that address, "These last two decades of the 20th Century will lay the groundwork for the 21st Century … We look toward that future with an acceptance of change."
After stepping down as AASHTO president, Ward continued serving as the Oklahoma director of transportation until reaching the state's mandatory retirement age of 65 in February 1985. Later that same year, the Oklahoma City-based headquarters building of the state's department of transportation was named in his honor.
On March 30, 1986 -- about 13 months after retiring -- Ward died after suffering a heart attack at his home in Stillwater. "Dick Ward was the architect of Oklahoma's modern transportation system," noted then-Oklahoma Governor George Nigh in a statement. "He was a great friend and an outstanding public servant." Ward's widow Ruth, whom he had married in 1949, died this past May at the age of 99.
---