December 19, 2013
One Hundred Years Ago Today in Transportation...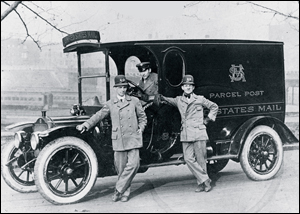 With Christmas just around the corner, Americans and their post offices alike were even busier than in years past trying to handle and send out packages and presents for the holiday season. The reason for that increased activity could be traced to the fact that this was the first Christmas since the U.S. Post Office Department's Parcel Post Service had taken effect.
The origins of that mail-delivery service took root about two decades earlier with Rural Free Delivery (RFD), which started out on an experimental basis and became permanent in 1902. That service, which entailed bringing mail directly to rural residents, established itself as a widespread and welcome service. RFD was enlarged to include the shipment of packages that could not be delivered through regular mail and Parcel Post Service was officially inaugurated on Jan. 1, 1913. That new service turned out to be overwhelmingly popular; within the first six months of 1913 alone, about 300 million parcels were delivered.
The Christmas season, with its entrenched tradition of gift-giving, would prove to be an especially huge and challenging test of that delivery service; the city of Decatur, Illinois, illustrated that point. "CHRISTMAS RUSH IS ON," announced a headline in the Dec. 19 edition of the Daily Decatur Democrat newspaper in reporting on the crowds seeking to use the Parcel Post Service as the days before the holiday quickly dwindled away and the sense of urgency dramatically increased.
"Today was perhaps the first real busy day the postoffice has had in the way of special Christmas mail," reported that article. "Person after person, laden like a Santa Claus with Christmas parcels, made their way to the postoffice and receptacles were filled in just a little while, then emptied and refilled again in as short a time."
As Postmaster General Albert S. Burleson announced that same day, he and other postal officials were well aware that post offices nationwide were being flooded with packages to be shipped as quickly as possible and everything was being done to accomplish that. That increasingly high volume of mail over the next few days — "PARCEL POST IS SWAMPED," proclaimed the Indiana-based Daily Plain Dealer newspaper — also highlighted the more critical-than-before need to have adequate means for delivering those items to their destinations.
That holiday season, especially towards its end, would include the steeped-up efforts of postal officials across the United States to increase and use a variety of transportation options — from the long-established trains and horse-drawn wagons to the much newer automobiles and motor trucks — to deliver loads of packages throughout the nation in the timeliest manner possible. Above all else, that time of year highlighted the ever-growing importance of an adequate surface transportation system nationwide to get the job done.

---