December 19, 2014
Did You Know?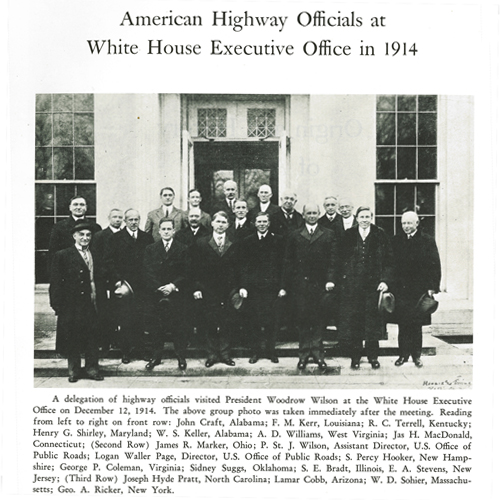 AASHTO's 100th Birthday Comes as Nation Grapples with Infrastructure Future
Dec. 12 marked the 100th birthday of AASHTO, an event that comes when policymakers in Congress and many states are grappling with how to develop and pay for the transportation network.
As AASHTO's leaders have made clear -- and documented in the book "A Century of Achievement for a Better Tomorrow" -- the visionary state officials who formed the association and those who followed them played a pivotal role in the nation's development. (That hardbound book, a combination history and outline of future needs, is available for sale at the AASHTO Bookstore.)
By reshaping the transportation network from one of limited highways and dirt roads to a multimodal network of modern highways, railroads, transit links, airports and seaports, AASHTO members helped develop the infrastructure that paved the way for the U.S. economy to become the world's leader.
At the organization's annual meeting last month in Charlotte, N.C., U.S. Transportation Secretary Anthony Foxx praised the group as helping line up public and congressional support throughout past decades for major transportation investment programs, including passage of the landmark legislation that established the Interstate Highway System.
"In 1955, after Eisenhower outlined a national highway program, Congress debated the funding for 18 months. That debate might never have been resolved if AASHTO members had not put pressure on Congress to get it done," said Foxx.
AASHTO certainly has embodied its 100th anniversary theme, "A Century of Achievement for a Better Tomorrow." Thank you for celebrating this tremendous milestone. Here's to at least another century of many more achievements.
---