A monthly update on AASHTO's 100th anniversary. Published the third week of each month. Subscribe to receive this in your inbox!
February 19, 2014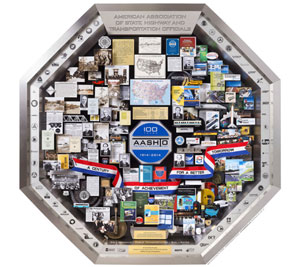 AASHTO Unveils Shadowbox Commemorating 100 Years of Transportation History
AASHTO last year commissioned One of a Kind Art Studio to build a three dimensional commemorative shadowbox to celebrate its 100th anniversary.
Featuring icons, images, tools and memories from 100 years of transportation, the completed shadowbox will be formally unveiled at next week's Washington Briefing Congressional Reception at the Reserve Officers Association. It will remain on permanent display in AASHTO's offices in Washington DC. However, first the shadowbox will travel to the 2014 AASHTO annual meeting in Charlotte, North Carolina, Nov. 25-28.
But you do not have to travel to see the shadowbox. An interactive version of the shadowbox is available online, providing an opportunity to dig deeper into AASHTO's history.
---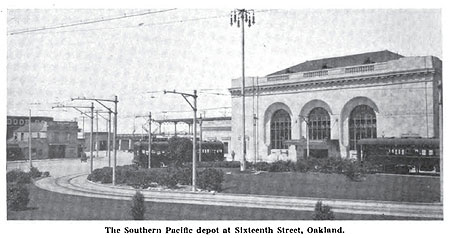 One Hundred Years Ago Today in Transportation...
In the years following the calamitous and still-notorious San Francisco earthquake in 1906, the Southern Pacific (SP) Railroad's Sixteenth Street Station in Oakland gained ever-increasing importance for its role in helping to facilitate the renewed travel, growth, and business within that region of California. The station, noted as well for its Beaux-Arts Classical style, was completed and dedicated in 1912 and replaced an outdated wood-frame building that been around since 1870s. Read More
---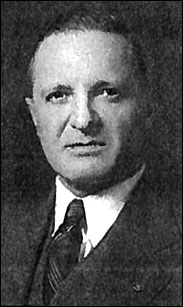 AASHTO Presidential Profile: Michael J. Hoffmann, Minnesota Highway Department
Michael J. Hoffmann of Minnesota served as AASHO president in 1946, in an era when both the association and the United States were moving further away from the World War II years and beginning to grapple with the major peacetime challenges facing the nation's highways. As one benchmark of those post-war challenges, vehicle registrations and traffic nationwide had jumped significantly in the time since the Axis powers were defeated. Read More
---
Did You Know?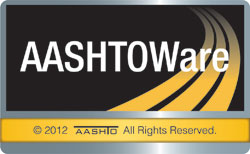 AASHTO has its very own suite of software designed by transportation professionals for transportation professionals, cooperatively developed and continually updated by experts from state transportation departments across the country. Read More
---
Then and Now
Shortage of Highway Engineers Starts in College
The following piece, published in the July 1948 edition of American Highways, is a piece by Bernard Gray, then general manager of The Asphalt Institute, responding to data that the industry was experiencing a shortage of civil engineers for a variety of reasons (salary, opportunities for growth, exposure to the field in college, etc.). Today, state transportation departments are teaching the nation's youth about the vast array of options they have in transportation careers (not just highway civil engineering) and that education starts in elementary school instead of college, through programs like AASHTO's TRAC & Rides. Read More
---