A monthly update on AASHTO's 100th anniversary. Published the third week of each month. Subscribe to receive this in your inbox!
July 16, 2014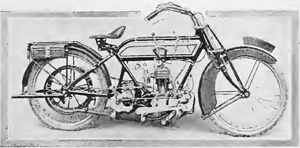 One Hundred Years Ago Today in Transportation...
The Federation of American Motorcyclists (FAM) was holding the second day of its annual convention in St. Louis, Missouri on June 16, 1914. "Hundreds of devotees of the motorcycle" were on hand on for that meeting, according to that day's edition of the Arizona-based Bisebee Daily Review newspapers. That attendance alone underscored the ever-increasing popularity of that means of transportation nearly 11 years after FAM – now part of today's American Motorcyclist Association – had been officially formed in Brooklyn, New York. Read More
---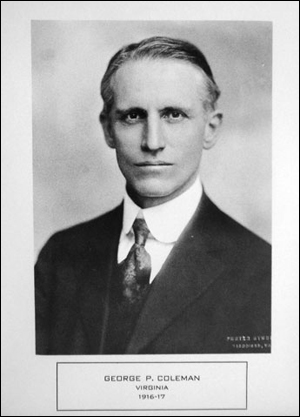 AASHTO Presidential Profile: George P. Coleman of Virginia
George Preston Coleman, chairman of Virginia's state highway commission, served as the second president of the American Association of State Highway and Transportation Officials (AASHO) during a time filled with challenges and changes for both the nascent organization and the development of roads nationwide. It was also a time in which the U.S. found itself entering into and helping to fight World War I. Read More
---
Then and Now
Transportation Maintenance and Expansion
Shall We Wait for Traffic's Knockout Punch?
The following speech, published in the April 1950 edition of American Highways, was given by AASHTO President D.C. Greer before the Associated General Contractors of America's 31st Annual Convention in San Francisco. In his remarks, Greer stresses the importance of not just maintaining transportation infrastructure, but also highlights the need to think about future growth. Greer asks state highway departments to continue to look for ways to stretch highway dollars in order to "keep pace with highway demand." Today, state DOTs are in the same situation, balancing the need to maintain current infrastructure while also preparing for future growth, all with limited transportation dollars. Read More
---
Did You Know?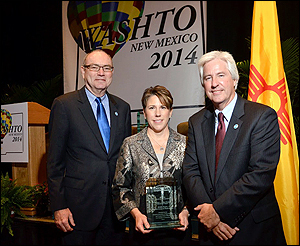 The America's Transportation Awards Recognizes the Best in Transportation
The America's Transportation Awards competition recognizes the best transportation projects accomplished each year by state departments of transportation. From building new bridges, bike and pedestrian paths and highways, to easing congestion and improving safety and metropolitan mobility through transit, these projects instill an appreciation of transportation as a key element of our quality of life. The 2014 competition has experienced record participation from 37 AASHTO members, nominating a total of 73 projects. Read More
---