October 24, 2013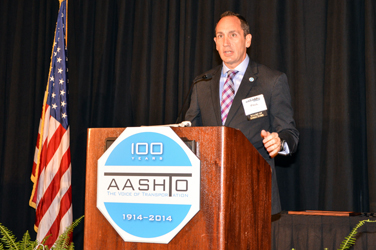 AASHTO Officially Kicks Off Centennial Celebration at Annual Meeting
The American Association of State Highway and Transportation Officials formally began its year-long 100th anniversary celebration last week at its annual meeting, held Oct. 17-21 in Denver. Read More
---
Did You Know?

On Oct. 1, 1965, the American Association of State Highway Officials Materials Reference Laboratory (AMRL) was established in Gaithersburg, Md., as a Research Associate Program at the National Bureau of Standards (now known as the National Institute of Standards and Technology) as a key step in the standardization of construction materials nationwide. The creation of AMRL helped the transportation industry evaluate testing competency, promote continual improvement, and instill confidence in laboratories and specifiers that use AMRL programs. Read More
---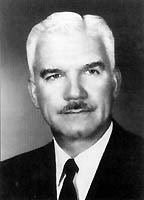 AASHTO Presidential Profile: Bertram D. Tallamy, New York
The American Association of State Highway Officials chose Bertram Dalley Tallamy, who was New York State Superintendent of Public Works and Chairman of the New York State Thruway Authority, as the association's 39th president from 1951-1952, a time filled with unprecedented changes and challenges for highways development nationwide. Read More
---

One Hundred Years Ago Today in Transportation...
At Friday's regular weekly luncheon meeting of the Greater Moline Committee of the city of Moline in northwestern Illinois, members of the group listened to Edwin W. Woodcock read his written report about the American Road Congress he recently attended in Detroit. Woodcock's presentation focused on the discussions at that congress about plans for the Lincoln Highway. Read More
---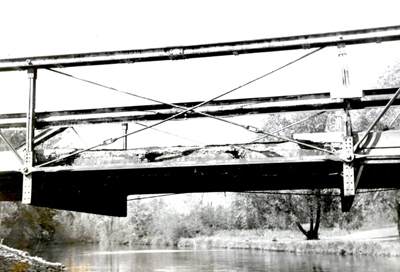 Then and Now
Inadequate, Structurally Deficient Brides: A National Problem
The following piece was published in the AASHTO Quarterly by West Virginia Department of Highways Commissioner Joseph Jones in October 1977. Jones discusses the deteriorating state of the nation's bridges and his fear that the problem would continue to go unaddressed. While state transportation departments have been tackling failing bridges for decades, they are still grappling with how to keep up with those bridges that are deteriorating, sometimes by rates faster than DOTs can repair or replace them. Read More
---