A monthly update on AASHTO's 100th anniversary. Published the third week of each month. Subscribe to receive this in your inbox!
December 19, 2013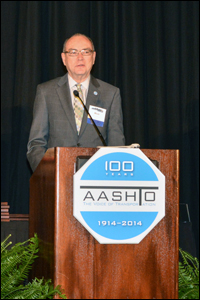 AASHTO "Gears Up" for Centennial Celebration
The Transportation Research Board's 93rd Annual Meeting, held next month in Washington, D.C., will feature a special session to celebrate the American Association of State Highway and Transportation Officials' centennial, which takes place all throughout 2014.
The AASHTO centennial session, set to take place on Monday, Jan. 13 from 10:15 a.m. to noon at the Washington Hilton, will include various speakers highlighting the many roles and perspectives of the organization. Speakers for this event, in presentation order, are:
John Horsley, former AASHTO executive director, will speak to "Perspectives from a Former AASHTO Executive Director"
Mary Peters, consultant, will focus her remarks on "Views from a Former Federal Official"
Susan Martinovich, former AASHTO President and current CH2MHill employee, will discuss "Views from a Former State Official and AASHTO President"
Bruce Seely, University of Michigan, will speak to attendees on "Historical Perspectives"
Bud Wright, AASHTO executive director, will wrap up the event by talking AASHTO's next moves in "Moving Toward the Future"
Registration for the TRB meeting, which is required to attend the AASHTO centennial event, is available here.
AASHTO's centennial celebration officially kicked off at the AASHTO Annual Meeting in Denver last October and will run until AASHTO's 2014 Annual Meeting in November 2014. AASHTO produces a monthly Centennial Newsletter (link to: http://centennial.transportation.org/newsletter.html) and has created a centennial website to allow its members and the public to stay informed on the events and news of AASHTO's 100th anniversary throughout the year.
---
One Hundred Years Ago Today in Transportation...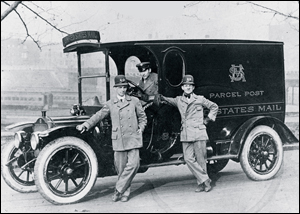 With Christmas just around the corner, Americans and their post offices alike were even busier than in years past trying to handle and send out packages and presents for the holiday season. The reason for that increased activity could be traced to the fact that this was the first Christmas since the U.S. Post Office Department's Parcel Post Service had taken effect. Read More
---
Then and Now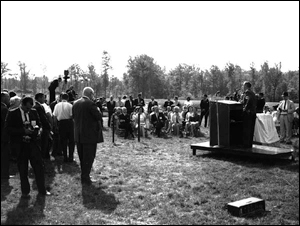 The TV Newsman—To Be Ignored, Tolerated, or Cultivated?
The following speech was delivered by Oregon State Highway Department Information Carl A. Plog before the AASHO Committee on Public Information at the association's 49th Annual Meeting in Portland, Ore., on Oct. 23, 1963. In his speech, which was published in the July 1964 edition of American Highways Magazine, Plog discusses the many benefits of the "new" communication medium—television. He urges members to embrace the visual communication tool and gives pointers on how to assist TV stations in presenting highway stories. Read More
---
AASHTO Presidential Profile: Samuel Eckels, Pennsylvania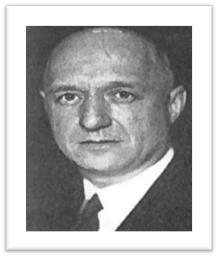 As AASHO approached 15 years of existence, it selected Samuel Eckels of Pennsylvania as the association's 16th president. Eckels, the chief engineer of the Pennsylvania Department of Highways, assumed the presidency of AASHO not long after the onset of what he would characterize as "an economic emergency of national proportions," namely the severe "Black Tuesday" stock market crash that signaled the start of the Great Depression. Read More
---
Did You Know?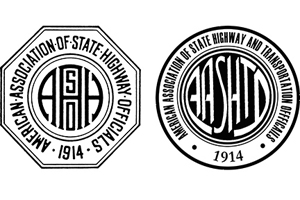 AASHTO has gone through some identity changes throughout its history. Originally named the American Association of State Highway Officials, the organization became the American Association of State Highway and Transportation Officials in 1973 to reflect a shift from a highway-oriented organization to one that addresses all modes of transportation. Read More